EssayJedii.com
http://essayjedii.com/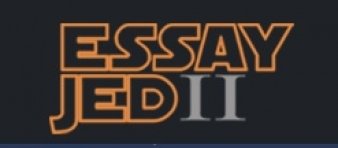 Pricing

7.7

Support

7.9

Quality

7.6

Delivery

6.1

Free features

6.2
Extra Features:
Payment Methods:

VISA

Master Card

American Express

Maestro

Discover

WireTransfer

Additional Features:

Prices start with $8.48

6-hours delivery option

5 years of experience

Plagiarism Check

Money back guarantee

100% Privacy

MA/MS and Ph.D writers

Direct contact with the writer

Single/Double spaced papers

All subject areas

All Formats
EssayJedii.com is an online writing company that serves needs of students, probably at both undergraduate and graduate levels of study. This review is written to summarize the services, policies, processes, prices, and level of quality one can expect to receive when using this writing service.
Based upon Essay Jedii testimonials published on its site, reviews and comments which customers have left in various places, review by scamadvisor.com, and our own assessment of the services,
Features of the Site
Essay Jedii features include a home page which provides some introductory and basic information. There are links to the following:
Privacy Policy
Terms of Use
Contact Us
Footer pages that speak to essay and paper writing
FAQ
Opportunity to chat
The order form is prominently displayed and is on all pages of the site.
There are recent Essay Jedii reviews or comments by customers regarding the satisfaction with their products and writers.
The site contains only sparse information about the company itself. There is no "About Us" link, suggesting perhaps that this may be a loosely affiliated group of writers without the structure of a full company.
Contact Information
There is no telephone number of address listed on the site. Methods of contact include email and a live chat feature, as well as chat capability with selected writers.
Ordering Process
The order form is simple and easy to complete. Required fields include type of writing from a drop down box, the length, requirements for resources, and the deadline requirement. While there is a box in which to add more information, it is suggested that the customer discuss further details directly with his/her writer. Once the order is submitted, the following occurs:
The customer is taken to a page where bids begin to come in. The customer is then free to discuss details with the writer, including the writer's credentials and background. There does not seem to be any method for verifying either of these with the company itself.
Once a writer is selected, and payment made, the production phase begins. It appears that, from that point forward, all discussion occurs between the client and writer. If a customer is unhappy with what is produced, it is up to the writer to agree to revise what has been delivered.
Among additional Essay Jedii benefits during the ordering process are the following:
The customer may select the degree level of the writer – Bachelor's through Ph.D.
The customer may opt to have his/her placed at the "front of the line" for $21.99
The customer may choose to pay extra ($9.99 per page) for administrative support to monitor order completion and quality
The customer may choose to pay extra ($5.99 per page) for an editor to review and proofread the product before it is delivered
These Essay Jedii alternative choices and fees can add a great deal of cost to the original order. Many other companies provide this type of support as a part of the overall price.
Quality/Reliability
Customer reviews and testimonials speak to overall satisfaction with the quality of writing they receive. However, there is no guarantee against plagiarism and no built-in check for this problem, unless perhaps the customer chooses to pay for the editing process.
Writer Quality: As mentioned earlier, there is no clear method to check writer credentials, and the customer may need to gauge quality through chat conversations with the writer before selecting him/her.
There is a privacy policy published on the site which guarantees confidentiality for customers, and the payment methods are secure – major credit cards and PayPal being the options.
Essayjedii.com Prices
A "test" order for a two-page essay with nor requirements for research received two bids within the first 5 minutes – one for $46.62 and one for $33.30. In comparison with other companies, these prices are definitely high, considering that they do not include automatic editing and check for plagiarism. Prices quoted by writers may be negotiable, but that is up to the customer.
General Comments
This company has been in business for less than a year. Because it is new, customers may want to engage in a lot of conversation with a potential writer before making a selection and payment.
2 Customer Reviews of "EssayJedii.com"
Pricing

Support

Quality

Delivery

Free features
Doug
commented
EssayJedii.com
I like that the prices are really low and the support here is fine. These are the only advantages of the service! I ordered 2 essays from them and both of them were late (2 and 3 hours). Moreover, they needed revisions, as they were full of mistakes. And the content was not of a high quality too. I can forgive inexperienced support, but not the writers when I order from a writing service! If you can't afford a better service, you will have to deal with middling writers for a low price.
Pricing

Support

Quality

Delivery

Free features
noah
commented
EssayJedii.com
They cant meet a deadline. If you have a urgent request this is not the service to come to. Also they are terrible at quality of writing. At best your essay will be okay and at worst your essay will be unusable. Does not matter if you use there top writers or not. The result is the same.
Book review for English class was delivered on time. I read it through and gave it in straight to my professor without changing anything. Got B+ on it, but probably this is because she did not believe I'd written it myself.

My success in academic writing is totally because of you! If you didn't write me that term paper, I would fail!

They've helped me with dissertation chapters. When two people work on them, it's much faster and ultimate result is better.
View ALL comments